Published
25th February 2019
Categories
Economy, General News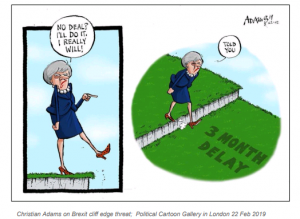 Progress?

We prognosticated in January that we thought it likely that the impossible US President Trump would reach a trade deal with China before the hapless UK prime minister would achieve a constructive divorce settlement with the EU. This week both issues appeared to progress as predicted.

US monetary tightening on hold while credit market soars back

According to their latest published meeting minutes, US central bank officials are now considering ending their balance sheet reduction before the end of 2019. In a somewhat surprising turn, the rate setters of the Federal Open Markets Committee (FOMC) recorded that "it would be desirable to announce before too long a plan to stop reducing the Federal Reserve's asset holdings later this year."

Three retail news stories that – combined – tell a bigger story

In the last week, three separate pieces of retail sector news in the US and UK have provided some insights into consumer behaviour, the shape of the high street going forward and whether big is still always beautiful.

The news started at the end of last week with US retail sales data that frankly shocked markets. December sales, excluding autos were reported to have fallen by 1.8%, undershooting consensus forecast by a massive 1.9%. Economists rarely get forecasts exactly right; but they usually don't miss by this much!

Brexit driving Honda and Nissan out of UK?

It's the economics stupid! It is a play on the words of Bill Clinton's successful 1992 Presidential campaign slogan, but the point is far more applicable to the Japanese car manufacturers' decision to reduce their UK based production capacity than "it's Brexit".

While Brexit has to take the blame for much of the UK's economic slowdown at the moment, Honda's decision this week to follow Nissan back to Japan has indeed less to do with Brexit and everything to do with monumental shifts in consumer demand, as regular readers of The Cambridge Weekly will know.

Read the Cambridge Weekly Update in full.

The contents of this email should not be construed as advice. Financial Advice should always be attained in order to assess your own individual circumstances. Investments may go down as well as up and you may not get back the full amount invested.

Perspective (North East) Ltd is Registered in England & Wales.  Registration Number: 04163906.  Registered office: Paradigm House, Brooke Court, Wilmslow, Cheshire. SK9 3ND.
Perspective (North East) Ltd is authorised and regulated by the Financial Conduct Authority.