Categories
Economy, General News, Perspective News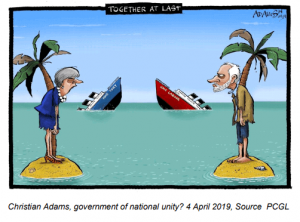 Happy 10th birthday, choppy bull market
Frustrating political divisions have drowned out the 10th anniversary of what many have called the most unloved equity bull market in history. Broad based equity market investors (those who held their nerve) have enjoyed annualised returns of over 10% since that frightful March 2009. This is quite extraordinary given the low investor confidence and general lack of exuberance this bull run was characterised by. It must have felt just as extraordinary for the big winners of the previous decade – hedge fund investors. To their surprise, plain, vanilla, low cost investments of diversified equity funds generated superior returns, despite being generally accessible for the 'average Joe' and not coming with excessive fees. There is a reason why this cycle is lasting longer than previous ones.
Japan's output gap is actually a positive sign
The recent data on Japan's economy has been mixed, to say the least. The latest readings on the purchasing managers indices (PMIs) point to stagnation or worse. Last month, the Nikkei Composite PMI fell to 50.4, from 50.7 in February, its lowest level in two and a half years.
Oil in the headlines – again
Regular readers will know that we cover changes in the oil price quite frequently, due to the commodity's standing as a key macro-economic variable that has the power to both propel and slow the global economy. Last year, after a period of somewhat moderate oil prices around the $50 per barrel (/bbl) mark, oil prices rose to over $75/bbl, only to then even more quickly decline back to $45/bbl. Oil speculators had once again misread the global supply and demand developments and caused unhelpful price volatility for the global economy – and losses for themselves.
Knowing what's under the bonnet!
One of the many questions asked in today's Brexit turmoil is how the UK stock market continues to rally in lock step with other global stock markets, despite the biggest political crisis in decades. Given how political uncertainty over Brexit has recently held back long-term business projects, it is not surprising that domestically-focused UK companies have underperformed those with overseas revenues since 2016.
Read the full Cambridge Weekly Report here