Published
26th March 2019
Categories
Economy, General News, Perspective News
Perspective (North East) Ltd, the Newcastle office of national financial planners and wealth managers Perspective Financial Group Ltd, has recruited four new people to its team.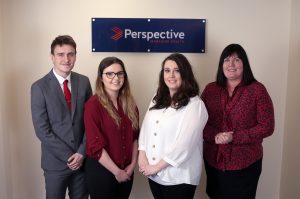 Left to Right: Jack Oakes, Rochelle Mills, Charlotte Hudson and Julie Hunter
Julie Hunter, a Financial Planning Consultant joins from Galloway Whitfield (Life & Pensions) Ltd following its acquisition by Perspective Financial Group last month. Julie has over 30 years' experience in the sector, specialising in corporate clients, and advising on pensions, business protection and employee benefits.
Jack Oakes, Trainee Paraplanner, is a graduate of Northumbria University with a degree in Business Systems & Project Management. Jack said: "I'm delighted to be embarking on a career in financial planning. Perspective's Training Academy was a big attraction for me as it combines studying for exams with practical, on the job training and support. I am looking forward to learning and sharing experiences with the other 20 students nationally in the Academy, five of whom are in the North East."
Rochelle Mills and Charlotte Hudson join as Administrators from the retail and telecoms sectors respectively.
Ian Wilkinson, Managing Director of Perspective Financial Group commented: "I'm delighted to welcome these new staff members. We are on a strong growth trajectory both in the region and nationally, having already made two further acquisitions this year with more to come.
"Our Training Academy is really helping us grow a pipeline of talent. Clients value continuity of their financial advisers – the average age of our advisers is 43, compared to an industry average of 57, which means our clients benefit greatly from being looked after by the same adviser throughout the relationship."
ENDS
For further information please:
Visit: pfgl.co.uk
Contact Charles Penn, Group Head of Marketing, Perspective Financial Group Ltd Tel 0191 217 3343; Mobile: 07799 821904
Notes to Editors:
Perspective Financial Group Ltd employs over 160 staff across 14 offices in the UK.
Perspective's Group offices provide a range of financial planning and wealth management services to private individuals, businesses and trusts.
Perspective (North East) Ltd, based in Newcastle upon Tyne, has over 40 staff and holds the highly regarded Chartered status from the Chartered Insurance Institute.
Perspective's aim is to become the leading provider of financial planning and wealth management advice in the UK. Its focus is on the provision of quality advice and providing a fully-rounded and robust proposition for all its clients.
Perspective has been ranked in the FT's Top 100 Financial Advisers league table since 2011.
Perspective was launched in April 2008 as a consolidation vehicle within the financial services industry. It has now grown to be one of the largest, whole of market financial planning & wealth management businesses in the UK.