Categories
Economy, General News, Perspective News
Perspective appoints new Acquisitions Director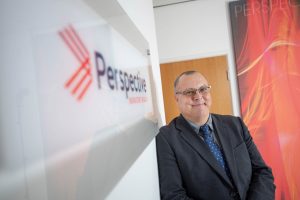 Perspective Financial Group Ltd (Perspective), the widely respected and progressive national financial planning and wealth management Group, has hired Kevin Homfray as Acquisitions Director. This new senior level appointment reports to David Hesketh, Group Finance Director, and will be instrumental in further delivering the Group's ambitious acquisitions plans.
Perspective has made 34 acquisitions since it was founded in 2008, including three in 2019, with more planned. The Group's latest acquisition was of Thornton Springer Financial Services LLP, one of south east London's foremost firms of financial planners and wealth managers, giving Perspective a London office for the first time.
Perspective now has 15 offices in the UK, including London, Eastbourne, Marlborough, Chesham, Chester, Chorley and Newcastle upon Tyne. The Group's focus is to merge established financial advisory firms with its existing offices, as well as opening new locations in carefully selected areas.
Kevin, an accountant by background, has held senior roles in financial services for over 15 years, most recently as Financial Director and Head of Acquisitions for Newell Palmer, where he led the acquisition of over 50 IFA business acquisitions.
Ian Wilkinson, Group Managing Director of Perspective Financial Group Ltd, comments:
"We welcome Kevin to our team. Our aim is to become the leading provider of financial planning and wealth management advice in the UK, both through organic growth and further acquisitions, and to be the consolidator of choice for IFA's looking to retire and exit the industry.
"We believe our offering for this is very compelling with our strong client-centric, ethical approach providing an excellent home for the retiring IFA's clients, and our appealing deal structure.
"The firms we acquire consistently comment they like how we work, they respect our professional approach and can see how their clients and their business will benefit from the Group's additional expertise and greater resources.
"Our average adviser age is ten years below the industry average, and with a well- established in-house Training Academy, we have good succession plans in place for our adviser teams."
Kevin Homfray, Acquisitions Director said:
"I chose to work for Perspective for three reasons – firstly, I liked all the people I met there, which confirms what other people in the industry said. Working with like-minded people is very important.
"Secondly, Perspective's vision and the opportunity the group sees for growth is clear and very motivating. Thirdly, Perspective has a great client proposition and a reputation for handling acquisitions well which is critical to my role.
"I am thoroughly looking forward to being part of the Group."
ENDS
Notes to editors
About Perspective Financial Group LtdPerspective Financial Group Limited (PFG) is a National IFA Group which employs over 160 staff across 15 offices in the UK.
Perspective's Group firms provide a range of financial planning and wealth management services to private individuals, corporates and trustees.
Perspective's aim is to become the leading provider of financial planning and wealth management advice in the UK. Its focus is on the provision of quality advice and providing a fully-rounded and robust proposition for all its clients.
Perspective has been listed in the FT's Top 100 Financial Advisers table since 2011.
Perspective was launched in April 2008 as a consolidation vehicle within the financial services industry. It has now grown to be one of the largest, whole of market financial planning & wealth management businesses in the UK.
Perspective works with those IFA firms considering their growth and/or exit strategy from the financial services industry and acquiring those firms under the Perspective brand.
The Perspective Executive Management Team comprises: Ian Wilkinson (Group Managing Director), Julie Hepworth (Group Regulatory Director) and David Hesketh (Group Finance Director).
Perspective's model for individual Group firms focuses on developing advisers' recurring income business and the underlying profitability of that business whilst providing Advisers with leading technology and a wide range of cost-effective investment options and financial planning services to ensure that the highest level of service is provided to their clients.
Perspective Financial Group Ltd, Paradigm House, Brooke Court, Wilmslow, Cheshire SK9 3ND. Tel: 0161 244 9759.