Published
16th August 2023
Categories
Perspective News
Perspective (North East) Ltd were delighted to help support YMCA North Tyneside by sponsoring the meal and volunteering time at their recent Community meal and got to see how the donation helped. They had a wonderful time getting to know everyone and helping out.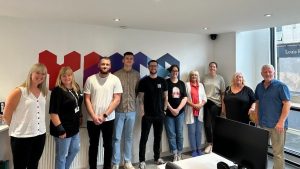 YMCA North Tyneside is a charity dedicated to transforming the lives of young people in North Tyneside and the surrounding areas. We are proud to help support the needs of the local community in any way we can.
The Newcastle office have another two community meals in the diary to sponsor and volunteer at. Trevor Clark, Josh Clark, Jessica Wright & Nikki Fenwick kindly volunteered their time to help at the first meal.
Nikki Fenwick, Senior Administrator at Perspective (North East)Ltd said:
"I had a great time volunteering, it was lovely to see the YMCA providing support to the local community. There were people popping in for a free meal from all walks of life, from the retired, unemployed and people who were working, but getting a free meal every two weeks helped them with the cost of living to feed themselves and their children. Quite a few carry outs were being taken too!
The staff at the YMCA made us feel very welcome and at ease and explained what we needed to do. I enjoyed chatting with the visitors and helping and would definitely be interested in doing it again."
YMCA said "It was fantastic to have so many old faces return, and new faces join us for last night's Community Meal! Thank you to Perspective Financial Group Ltd for sponsoring the meal and for coming along to volunteer their time, seeing how their donations helped!"