Published
11th February 2020
Virus week – not in stock markets
January is behind us and what a year it's already been. Investors have been bounced around from WWIII fears between the US and Iran, the formal Impeachment of the US president and the prospect of a global virus pandemic. Against this backdrop, it is not surprising that our January 2020 asset returns overview has quite a lot of red across equity markets and solid black across the lower risk bond sectors (see table at the bottom).
Yet it was only the last week of the month that led to this end result. For most of the month the tallies had been positive for equities – maintaining the somewhat extraordinary run for global risk assets since last September. Then the Coronavirus scare gripped investors and provided the reason for the more speculative end of the markets to start taking profits.
January 2020 asset class returns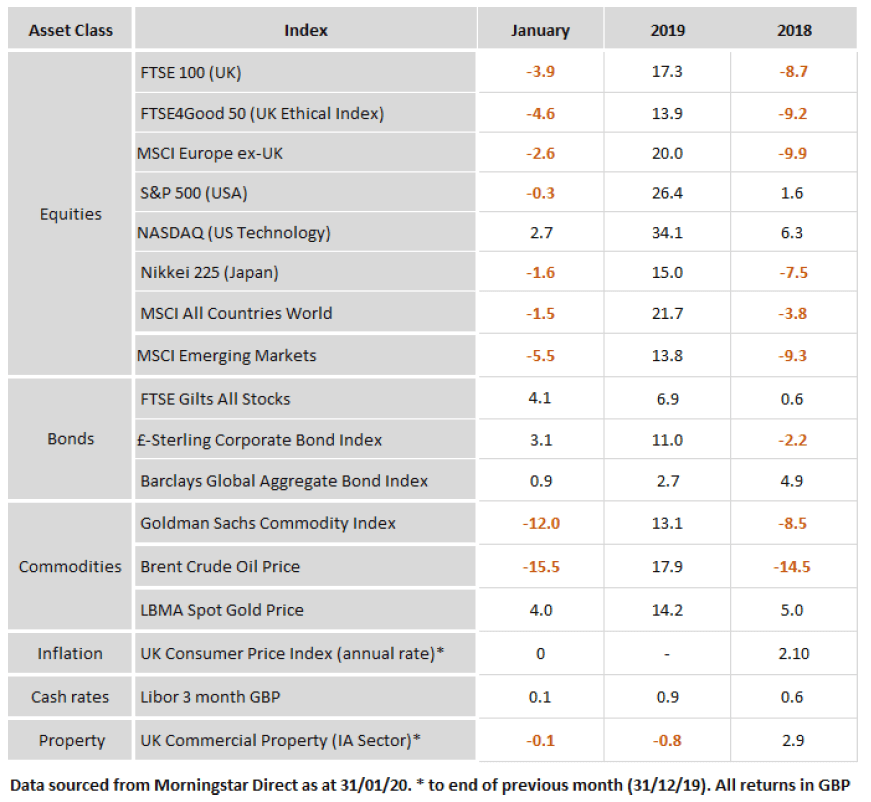 Coronavirus, or the Fall and Rise of Emerging Markets
Despite being a few weeks into the Coronavirus scare, still very little is known about its real extent. Conflicting media reports abound: One day we hear apocalyptic news and the next we hear reports that the virus' peak is near or even behind us. The same is true for how dangerous it is – with reports ranging from 'extremely deadly' to 'not as bad as seasonal flu'. What we know for sure is that, after losing a valuable six weeks over December and January, the Chinese government has been about as responsive as it could be.
US economy ignores tumultuous politics
Former New Hampshire governor John Sununu once remarked: "The people of Iowa pick corn, the people of New Hampshire pick presidents," The two US states are the earliest to have their say in choosing presidential candidates. But although Iowa goes first, New Hampshire has a knack for picking the eventual winning candidate. This week, after the chaos of the Iowa Democratic caucus, the US Democratic party might start telling the 'Hawkeye State' to stick to the corn.